Featuring Dallas Winds, Jerry Junkin, Artistic Director
With special guest artists: Boston Brass and Saxophone Soloist Timothy McAllister
Thursday, February 8, 2024
8 p.m., Lila Cockrell Theatre
$20, General Admission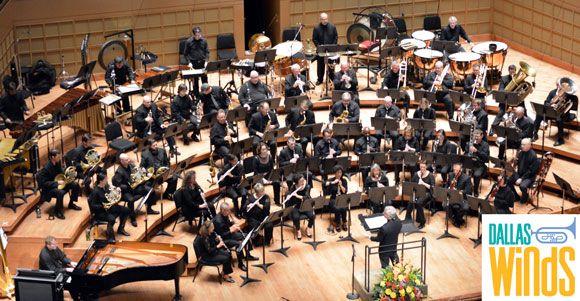 The Dallas Winds is the leading professional civilian wind band in the United States today. Comprised of 50 woodwind, brass and percussion players, the band performs an eclectic blend of musical styles ranging from Bach to Bernstein and Sousa to Strauss. They combine the tradition of the British brass band with the musical heritage of the American town band and the pioneering spirit of the 21st century wind ensemble.
The Vision of the Dallas Winds is to be a distinguished role model, whose artistry serves as the preeminent benchmark for instrumental ensembles worldwide by creating joyous, shared musical experiences for audiences and performers.
Get your tickets early! Tickets are available to purchase as an add-on with Convention Registration.
Already registered for the convention? Follow these instructions to purchase tickets after registration.